Old Bathroom-New Feeling: Our Efforts in Washroom Remodelling
Are you seeking to remodel your washroom for an elegant and ecstatic look? It is a dream come true for home and real estate owners who want to get their washrooms remodelled as per their choice. Get the most vibrant and meticulously designed washroom which would be the center of attraction and reflect your lifestyle. Well, you are at the right place. Our washroom remodeling services in Vaughan with the most promising designs are in high demand all the time!
SMB Builders has been one of the key leaders and pioneers in the home renovation and remodelling space. We have decades of experience and expertise in home renovations including bathroom, and kitchen remodelling services. Our home renovation services span multiple cities in the GTA such as Vaughan, Mississauga, Brampton, Richmond, North York, Markham and King City. We also provide premier services for designing custom homes across GTA.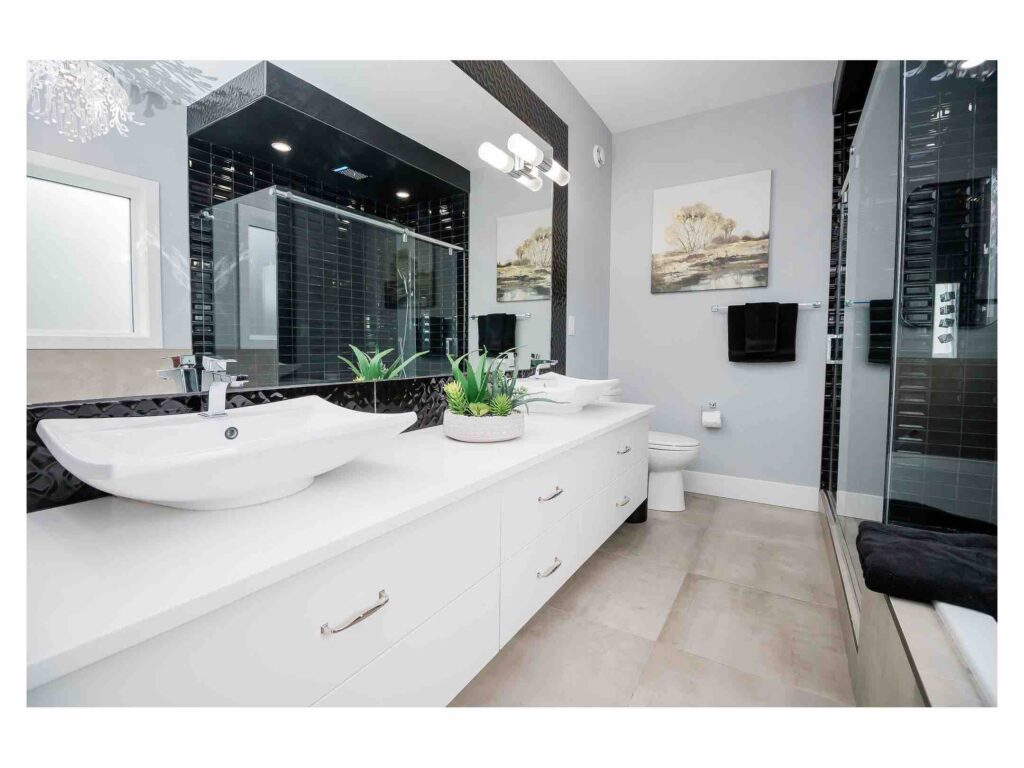 In this blog, we will be focusing on the Washroom Remodeling services in the Vaughan region in particular. Vaughan has been an ideal dwelling place for home lovers looking for good housing options around the city. Houses are largely planned and designed with modern amenities and provide a typical Canadian feel of the architecture and the build quality. Many residents are looking for remodelling of their washrooms for older homes and estates specifically. This is where we facilitate the job of giving a complete make-over to the washroom with an elegant and aesthetic look.
How our Washroom Remodeling Services help Homeowners choose the best bathrooms for a lifetime
Our key expertise in washroom remodeling services in Vaughan helps to get the best design ideas for custom-made washrooms with all the modern amenities such as smart shower combos, faucets, high-grade sinks, bathtubs and toilets. We spend a great deal of time understanding and discussing your needs and expectations starting from the design till the end of construction and make-over. Our expert designers and team take meticulous care of flushing, water drainage and waterproofing the entire facility to maximize cleanliness and manage space retention inside the washroom.
Unique Features of Washroom Remodeling in Brampton offered by SM Builders
We enumerate the below striking features of the washroom remodeling services provided by our company in the Brampton region:
Unique design, high-grade materials with the best quality of construction during the remodeling process

Understanding the needs of customers, including design, choosing bathroom accessories, tiles and colour palettes as per homeowners' needs.

Efficient undertaking of the entire renovation task to ensure minimal maintenance, minimal wear and tear and maximum material life.

On-site warranty on the materials used and the design of the washroom.

On-Site inspection after the completion of the renovation process.

Optimization of free space in the washroom as much as feasible based on smart and efficient fittings that conserve space.

On-time project completion with no issues for the renovation activity.
Our washroom remodeling services are available throughout the year in Brampton and surrounding areas and you can reach out to us for a complete home renovation project as well. We would be more than happy to cater to your remodeling needs and execute the project within the shortest span of time feasible. Our expert project team will ensure 100% satisfaction with a feedback-driven approach so as to provide you with the exact-looking washroom of your choice.
We are just a phone call or a click away from you. Reach out to us right away to get your washroom remodeled with a trendy and elegant-look. Get our services for washroom remodeling in Vaughan and enjoy the experience of a lifetime.